We normally stick with eggs and sausage for camping breakfast, but if we have friends joining us I'll take it up a notch with some pancakes. I loathe doing dishes while camping, so I avoid anything that requires mixing on site. Making pancakes ahead of time is tricky because they usually depend on baking soda and/or baking powder as leavening, both of which act quickly and lose power if they sit around. So for camping I rely on a yeasted recipe instead.
Don't expect traditional diner style pancakes here. These are yeasted and allowed to sit for a few days, so they have a tender, almost lacy crumb texture and a slight sourdough flavor. The batter is only lightly sweetened, but they pair beautifully with maple syrup, or with my personal favorite pancake topping - Greek yogurt swirled with jam.
To adapt for camping I put the batter in a gallon ziploc bag. Because the yeast are active little buggers the bag will fill up with CO2, so you do have to remember to open it up and press the air out once or twice a day. When I'm ready to make pancakes, I cut a corner off the bag and use it as a batter dispenser.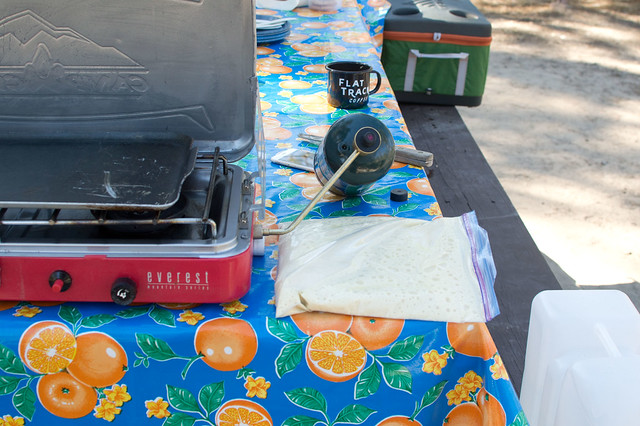 Camping pancakes
(serves 4 - 6, original recipe
here
- scales up easily)
1 teaspoon (about 1/2 package) active dry yeast
2 tablespoons lukewarm water
2 cups flour
1 1/2 teaspoons baking powder
1 1/2 teaspoons baking soda
1/2 teaspoon kosher salt
2 tablespoons sugar
2 cups buttermilk, shaken
3 eggs, lightly beaten
2 tablespoons melted butter
Dissolve the yeast in the water and set it aside.
In a large bowl, combine the flour, baking powder, baking soda, salt and sugar.
In another bowl, beat together the buttermilk, eggs and melted butter. Add in the yeast mixture, which should be nice and foamy by now if your yeast is working properly.
Mix the liquid ingredients into the dry ingredients and whisk just until combined (don't worry about lumps).
Pour the batter into a gallon Ziploc bag and stash it in the cooler. Remember to check on it twice a day to let out pressure or you could end up with a batter explosion on your hands.
When you're ready to cook, heat your griddle to medium, butter it and then snip one corner of the bag off and use it as a pancake dispenser. Cook until bubbles appear on the surface, then flip. Camp stoves aren't precision instruments, so be prepared for the first batch to be a trial run as you adjust the heat. I find that it takes a couple of minutes cooking on each side once the heat is adjusted properly.
Pancake batter should hold up for at least three days. I usually make it on Friday evening or Saturday morning and cook it on Sunday, so I haven't tested the limits of this.